Get to know our experienced and knowledgeable team.
Lisa Gossen
BSc., R.M.T, C.H.N., Proprietor
2200 Hours Registration MTAA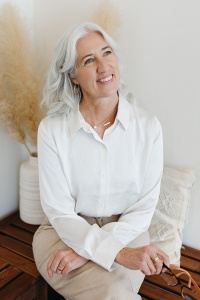 Lisa has brought her 30 years of experience in private practice and consulting to design an exciting, unique, and leading-edge blend of spa experiences in a newly renovated and custom designed facility. She has worked extensively with medical doctors, chiropractors, and physiotherapists in a variety of health care settings.
Lisa is a dynamic public speaker and continues to develop and present seminars on integrative and complimentary health care topics. In addition to her Bachelor of Science in Biology, Lisa has diplomas from the West Coast College of Massage Therapy and the Canadian School of Natural Nutrition. Lisa has also completed the Paramedical Dermal Technician certification with Dr. Danne Montague King and Dr. Eleanna Beveridge.

Dennis Lee
HBSc., MSc., TCMD, RAc.
Dennis received his certificate of clinical practice in Acupuncture and Chinese Herbs from the Zhe Jiang College of Traditional Chinese medicine in Hangzhou, China. He is a registered acupuncturist in Alberta and is a graduate of the Alberta College of Acupuncture and Traditional Chinese Medicine (ACATCM). Dennis also holds a Masters of Science degree from the University of Alberta, specializing in the field of Cell Biology and an Honors Bachelor of Science degree in Biology from the University of Western Ontario. Dr. Lee is the Dean of Students at ACATCM and is also one of the head lecturers and Chief Clinical Supervisor.
Dr. Lee specializes in Infertility, Digestive disorders, Pain management, Stress control, and Gynecological problems. His focus is to help ones body heal itself through Acupuncture, Herbology, and Auricular Medicine. Dr. Lee also has very effective preventative protocols for maintaining good health and overall body balancing.

Sarah Ali
BFA, DID
Marketing / Creative Direction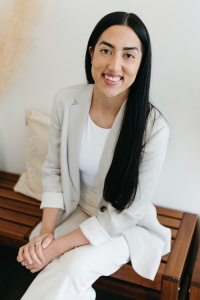 Sarah is a multidisciplinary creative based in Calgary, Canada. Sarah holds a Bachelor of Fine Arts from Alberta University of the Arts and is a recent graduate from the Interior Architecture + Design Program with Visual College of Art + Design. Her skills range from interior design, creative direction, curation, brand development, web design and marketing. Sarah is inspired by community and the urban experience, further to this, she aims to enhance the local experience through conceptual thinking, and takes a minimal, organic approach to her passion for design.

Twyla Branston
R.M.T.
2200 Hours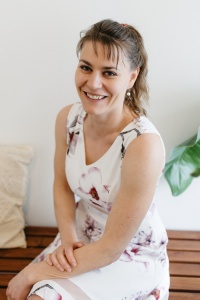 Twyla completed her registered massage therapy diploma from CDI College in 2010. She firmly believes in finding the correct methods of treatment for each individual client; whether it be through Relaxation, Therapeutic, Deep Tissue Massage, Mayofascial Decompression, or other modes of therapy. Twyla is also certified in Instrument Assisted Soft Tissue Mobilization and loves precision-based massage techniques when appropriate. She enjoys outdoor mountain activities in her free time, as well as reading and continuously learning. Post pandemic, she feels that we all need more self-care in our lives; be it time with loved ones, time spent in nature, or other forms of physical therapy as future preventatives.

Terry Dyson
R.M.T., P.F.T.
2200 Hours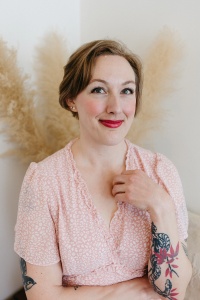 Terry Graduated from Foothills College of Massage in 2000. She started her career in a Chiropractic clinic treating primarily motor vehicle accident clients. She joined Inner balance spa in 2003 and has been part of the inner balance team ever since. She is versed in treating many conditions and is especially focused on a more therapeutic style of massage. Terry is one of our senior therapists and facialists. She works with Eminence Organics as well as DMK, and is certified as a Paramedical Dermal Technician. Outside of the spa, Terry is a long distance runner, avid cyclist and passionate weight lifter. She enhanced her love of fitness and exercise by continuing her education in Personal Fitness Training through Mount Royal University and by earning a CSEP certification. She sews, bakes, and also enjoys hiking and reading. No longer a one-on-one personal trainer in practice, Terry continues to focus her career on massage and through continued education that support her primary interest in therapeutic styles and injury or pain reduction.

Ashley Edwards
2200 hours
Registration MTAA
Ashley graduated in 2004 with a 2200 hr diploma from the acclaimed Sutherland-Chan College of Massage Therapy in Toronto. She has also trained in Reflexology, advanced facial massage, and Raindrop Therapy. Ashley's 20 years of experience include a lead therapist position with a cruise ship company and work as an educator of RMT's in anatomy, clinical assessments, ethics, and pre/post natal techniques.
Ashley's specializes in deep tissue massage and is highly skilled in TMJ dysfunction and headache relief. She firmly believes in a multi-dimensional approach to relieving pain and stress and combines different therapeutic techniques to achieve results.

Sara Farkas
R.M.T.
2200 Hours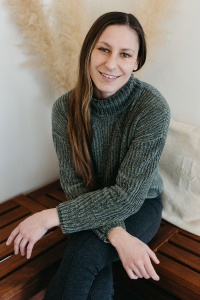 Sara graduated with honours from the Alberta College of Massage Therapy 2200 Hour program in 2019. As an active person herself, Sara is passionate about helping other active people with recovery and injury prevention. Sara uses a therapeutic approach to all her treatments and uses massage therapy as a way to help her clients decompress from everyday life. Sara believes in a results-focused approach to her practice and is trained in relaxation and therapeutic techniques and is also a certified myofascial cupping therapist.

Kaitlyn Freckleton
R.M.T.
2200 Hours
Kaitlyn is a 2200 hour graduate from MH Vickers School of Massage Therapy. She has been practicing massage therapy since 2016. Kaitlyn incorporates a combination of deep tissue and Swedish massage techniques to help achieve long term recovery. In addition to therapeutic massage she is also trained in myofascial cupping, raindrop therapy, prenatal massage, and TMJ disorder treatments.

Jocelyn Grover
R.M.T.
2200 Hours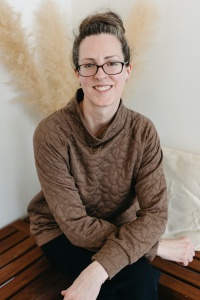 Jocelyn has her 2200 hour Massage Therapy Diploma from MH Vicars School of Massage Therapy. Prior to working as a massage therapist, she worked as a welder and fabricator for over 20 years. Yoga and massage therapy were two modalities that helped with such physical work, and she was inspired to get certified in both. She received her 200 hour yoga teacher training in 2012, and her massage therapy diploma in 2019. Although not teaching, she is currently a regular yoga practitioner and often recommends it to her massage clients. Along with therapeutic and relaxation massage, Jocelyn is trained in hot stone massage, myofacial release techniques, and prenatal massage. She recently received a diploma from CSNN in Holistic Nutrition and loves to read about nutrition and natural wellness in general. She loves to paint and crochet, cook and bake in her spare time, and is interested in gaining new techniques to apply to her massage practice to help clients on their wellness journey.

Susan Lavery
R.M.T.
2200 Hours
Thirty years and counting Susan has been passionate about helping clients feel better through massage therapy. Gaining experience in Toronto, Susan worked at a chiropractic clinic, sports – medicine clinic, fitness club and a rehabilitation centre for spinal cord injuries and amputations. With a prior career in fitness Susan realized usually chronic pain is caused by muscle imbalances. This resulted in Susan becoming a certified Mat and equipment Pilates instructor. Combining the proper exercises with a concentrated massage treatment proved to be a winning combination. A move to South Carolina gave Susan the opportunity to work with high performance tennis players at the academy where her husband taught tennis and her children trained. Susan enjoys implementing a variety of treatments such as hot stone, prenatal, raindrop, cupping reflexology and traditional Swedish massage. Susan believes continuing education is key and hopes to learn cranial sacral therapy and active release therapy in the future!

Darlene Nickerson
R.M.T.
2200 Hours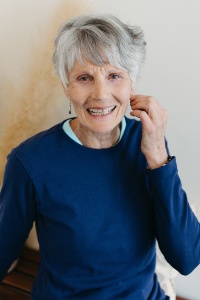 Darlene graduated from Mount Royal University's Massage Therapy program in 1997. Her expertise includes many methods for releasing and balancing the physical and energetic body. She has extensive training in reflexology, craniosacral therapy, raindrop therapy, prenatal massage and energy work. Darlene enjoys hiking in the Rocky Mountains, practicing yoga and being a grandmother.

Léah Patrie
2200 hours
Registration NHPC
Léah graduated from Kikawa college in Toronto in 2020. Her passion for mental and physical health, as well as longevity has inspired her path into massage therapy. Her specialties being general swedish massage, deep tissue, prenatal and trigger point therapy. She is also certified in myofascial cupping. Léah aspires to give optimal and goal oriented treatments. Whether that be relaxation, relief of pain or improve range of motion, she is there for you. She customizes her treatments to your individual needs and has a welcoming and caring presence. Léah loves meeting new clients and working with them to improve their health and vitality.

Simone Pohl
B.Des
Receptionist / Guest Services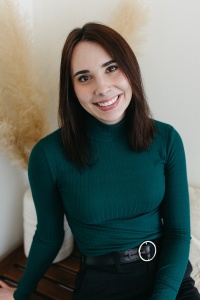 Simone is currently studying at Alberta University of the Arts, she will have a Bachelor of Design with a concentration in graphic design and advertising. Simone has experience in 10+ styles of dance including West African, Swing, and Classical Ballet. She also trained as a synchronized swimmer for many years. After various surgeries, Simone decided to focus her skills on visual art rather than performing. She has become passionate about mental health and helping those around her and ensuring everyone in need has access to the care they require. Simone hopes to apply her education and skills in a means that uplifts and educates the community on mental illness and the importance of maintaining a healthy state of mind. Simone began working with Inner Balance Spa in 2021, using her personal experiences to create meaningful and impactful relationships with each client she meets. She loves to create artwork in her free time, and has begun working on her skills in the field of animation. Simone is passionate about the work she does, and the connections she creates with those around her.

Vicki Sapach
3000 hours
Registration CMMOTA
Vicki graduated from the Okanagan Valley College of Massage Therapy in Vernon BC in 1999 and holds a 3000-hour diploma. She has 24 years of experience working alongside Physiotherapists and Chiropractors. Vicki has a great passion for helping clients with many different ailments. Treating everything from MVA cases to sports injuries, chronic repetitive strain as well general wellness and relaxation. Vicki is keen to share her knowledge with her clients so that they are educated, and have the option to take care of themselves between treatments, to amplify their success and healing rate.

Adrienne Wilson
R.M.T.
2200 Hours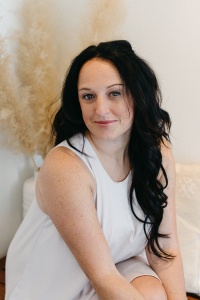 Adrienne has her 2200 hrs diploma, graduating from Alberta Massage Training. She enjoys combining relaxation, deep tissue technique and trigger point therapy to develop an individual based treatment session for her clients to fit their needs. She also specializes in Cranial Sacral Therapy and Myofascial Cupping and is certified in Raindrop Therapy, Prenatal Massage, IASTM and Hot/Cold Stone Therapy.